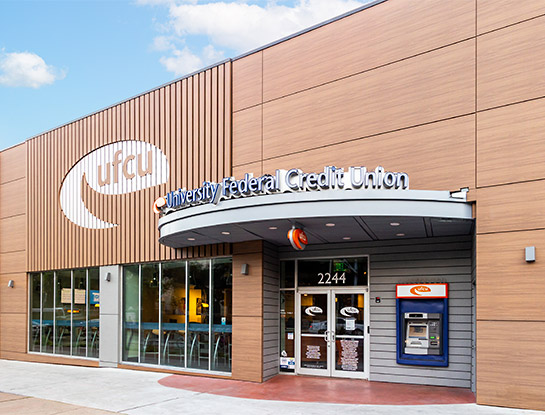 2244 Guadalupe St
Austin, TX 78705-5217
Parking is located behind the building in the University Co-Op parking lot on San Antonio Street between 22nd and 23rd. Validated parking is available for the first two hours; ask a UFCU representative for assistance.
Mon-Fri
Lobby: 9 AM–5 PM

Saturday
Lobby: Closed



Available Services
Enhanced ATMs
Walk-up ATM that accepts deposits
CFS* Financial Advisor
Coin machine
(512) 467-8080
Email UFCU
Directions
Feedback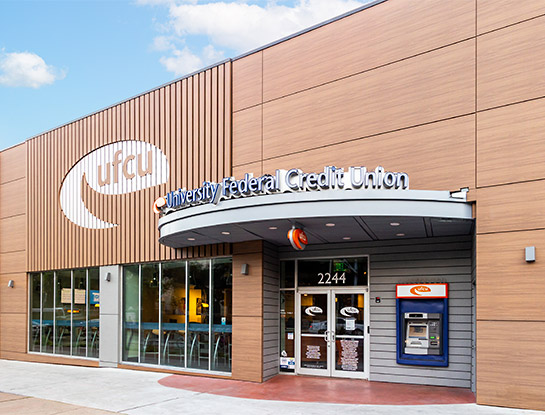 Representatives
Megan Livingston
Branch Manager
Associate Financial Advisor
CUSO Financial Services, L.P.* at UFCU
Financial Advisor
CUSO Financial Services, L.P.* at UFCU
* Non-deposit investment products and services are offered through CUSO Financial Services, L.P. ("CFS"), a registered broker-dealer (Member FINRA/SIPC) and SEC Registered Investment Advisor. Products offered through CFS: are not NCUA/NCUSIF or otherwise federally insured, are not guarantees or obligations of the credit union, and may involve investment risk including possible loss of principal. Investment Representatives are registered through CFS. UFCU has contracted with CFS to make non-deposit investment products and services available to credit union members.
CFS does not provide tax or legal advice. For such guidance, please consult a tax and/or legal advisor.
Registered Representatives are registered to conduct securities business and licensed to conduct insurance business in limited states. Response to, or contact with, residents of other states will be made only upon compliance with applicable licensing and registration requirements. The information in this website is for U.S. residents only and does not constitute an offer to sell, or a solicitation of an offer to purchase brokerage services to persons outside of the United States.
Meet Ken Aoshima
Ken Aoshima
Associate Financial Advisor<br />CUSO Financial Services, L.P.* at UFCU
[email protected]
(512) 977-7942
BrokerCheck
Check the background of this investment professional on FINRA's BrokerCheck.
Profile
Ken has helped Austinites achieve their financial goals for the last 6 years. He graduated from Concordia University with a degree in business management. After years at big banks, Ken relishes working for an organization like UFCU that puts Austin and its people first.
Ken has an array of experience in lending, banking, small businesses, and investing. He takes a holistic approach, understanding a client's concerns and then providing the options and information that helps clients make an informed decision that best meets their needs.
Ken and his family enjoy going to concerts, trying new restaurants, and exploring all of Austin's new attractions. He and his wife like trying new cooking recipes and spending time with their two daughters, Kenley and Evie. They are all avid concert goers and look forward to heading to ACL in Zilker Park every year. As a self-proclaimed foodie, Ken prides himself on providing restaurant recommendations.
Get to Know Ken
What is your favorite quote?
Time is more valuable than money. You can get more money, but you cannot get more time. — Jim Rohn
What was your favorite TV show growing up?
All of the Saturday morning cartoons.
If you could meet anyone, living or dead, who would it be?
Robin Williams
Meet Michael Garner
Michael Garner
Financial Advisor<br /> CUSO Financial Services, L.P.* at UFCU
[email protected]
(512) 977-7922
—If he's not watching the market, he's probably deep into the numbers with one of his fantasy sports teams.
BrokerCheck
Check the background of this investment professional on FINRA's BrokerCheck.
Profile
Michael loves baseball. A lifelong Texas Rangers fan, he is used to big wins — and big losses. What he's come to understand about baseball is that, much like investing, it's all about being in the right position to succeed. Perhaps that's why Michael is so passionate about his clients' successes.
In 2014 he was recruited away from a position in banking to join the UFCU Investment ServicesTM team, available through CFS,* where his tremendous tenacity has been a welcome addition. He prides himself on his results-oriented approach and pragmatic style of helping clients make smart choices with their assets. When asked why he made the switch to this line of work, he replied "because no two days are the same, and the decisions I help people make are the kind that actually make a difference in people's lives."
Michael is an Austin transplant by way of McAllen, TX, but has called our town home for nearly seven years. He is married and has a very precocious daughter that keeps him busy. When he's not at work, he enjoys spending time with his family, watching the Rangers and the Dallas Cowboys, and diving deep into his fantasy sports teams.
Get to Know Michael
Who is your favorite superhero?
"Batman! Because Batman has great toys and an awesome house. Who doesn't love that?"
What is your favorite holiday?
"Thanksgiving – family, food, and football!"
What is your favorite quote or saying?
"My favorite quote is the one our President, Tony Budet, often references: Relationships are all there is."
National Shared Branches
UFCU members can participate in the National Shared Branch Network, enabling you to transact UFCU business at hundreds of locations throughout the country. Learn more about the National Shared Branch Network, and where to find a location near you.
Important Note: ATMs at shared branch locations are not fee-free. To locate fee-free non-UFCU ATMs, please visit the ATM Alliance.
---
Fee-Free ATMS
Wherever you are, UFCU membership means free access to many ATMs across Central Texas and Galveston County.